2010-09-17 - love 4 Gaga


I would like to say it's finally starting to cool down. I may be correct. We'll see tonight when we head out with bells on. It's Friday night! The usual: dancing, drinking, laughing, hanging out with friends.

I've been working out like a fiend! My heel keeps feeling better and better. The other day I jogged 3 miles in 35 minutes on the treadmill. Then today I went to the gym again and jogged 30 minutes (about 2.5 miles), and then did the precore for 28 minutes. I feel great! I think I've lost about 2 pounds. It's amazing what that does to my self esteem. Just 2 pounds! After my heel fracture, I gained about 5 pounds, blech!

We went out last night and I was slightly hungover today, but mostly I was tired. I took a half day at work. I saw a 5 car wreck right next to our apartments, this intersection is always littered with car parts from wrecks, it's ridiculous.

I took a picture of the sky yesterday.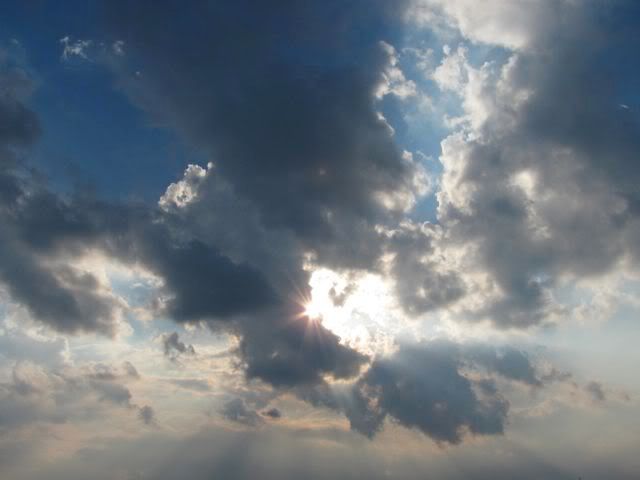 They're building a dang Walmart next to our apartments in 2011, but we'll be long gone by then. Here's the field where the building's supposed to occur.
Then we were sitting on a patio and you could see the green grass from the park across the street. It was night, but the street light was illuminating the grass.
I'm loving my job lately. It kicks my ass, but it's a good kind of ass kicking. I felt a little guilty for leaving early today, but goddamnit I've been working really hard lately and I deserve a break!
I got the new Eels album and boy is it good.
I dreamt about Gaga 2 nights ago, we were taking a shower together. It wasn't like THAT. It was like we were sisters, I didn't see any nipple or cootchie or anything, we were sitting in the tub together with the warm water spraying down on us, and it felt great, and we both had our knees up with our arms around our knees, and her long grey hair fell down her back and around her knees. She's beautiful, I love her! She filled a hole in my heart, that she did.
I bought a blue wig today at Target, I'm going to try to make it work tonight. I've never worn a wig out anywhere unless it was Halloween.
My telephone! My my my telephone!