2010-12-21 - Vitamin C


I'd been planning on this foot surgery for a few months now. So last Thursday I went in for the final consult, and the lady I was talking to didn't have her shit together. She didn't have a clue as to exactly what was going to happen to my feet! She was like, "You know you're going to be in casts on both your feet for 6 weeks, right?" And I was like, WHAT? the Dr. didn't tell me that. So she was like, well, let me talk to the Dr. tomorrow (Friday) morning, and call you. She never called. I left two messages with them, and nobody called me back. So all this weekend I was filled with worry. Then Saturday night I had dinner with Richard and a friend of mine, and I was talking to her about my situation. And then it dawned on me that my gut was telling to not have the surgery right now. I can plan on it maybe in a year or so. And take sick time instead vacation - what was I thinking?

Anyway, so the chick called me yesterday and she STILL hadn't talked to the Dr!! So I told her that something came up and I had to travel, and I wouldn't be able to have the surgery. I need to get a new foot Dr. and get a second opinion. Clueless people piss me off.

I think the problem with my feet will never go away and will continue to get worse, so I can't put the surgery off forever. I don't want to be 50 and unable to wear shoes or walk because of bunions. My older sister has Tailor's bunions, too. She hasn't had the surgery yet, but says she will need to eventually.

So that's that.

Now I'm going to have a real vacation! I'm off tomorrow through January 3rd! I'm not going anywhere, I don't have any plans. I didn't buy anybody any Christmas gifts. (I did send out a few cards, so I have somewhat of a Christmas spirit.) My sister wants me to drive all the way to Denton to spend Christmas with her. I don't think I'm going to. This is the first time I can remember in my working adult life that I've had a week and a half all to myself at home to do whatever I fancy. I want to ride my bike as much as I possibly can, the weather's supposed to be great the rest of the week. It was sunny and 80F today. Beautiful.

I went on a ride Sunday with my peeps. The "Fall" colors were gorgeous!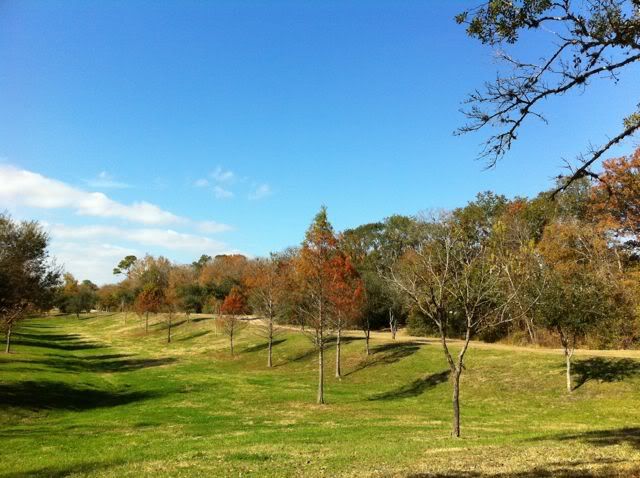 Then there was this cool tree trunk I spied.
I was torturing Niko the other week with the Clementines tangerine bag. She's totally giving me the "Why, mommy, why?" look here.
Here's that breakfast I made Richard the other morning. That's chai tea with whipped cream on top. And a citrus salad with oranges and grapefruit. Yes, I totally spoil him.
I went on an insane Christmas spending spree this weekend. Remember how I said I wanted to go shopping but didn't know what I was going to buy? I bought a pre-lit tree that was half off, plus some extra blue LCD lights. And some wooden ball garland things. AND a whole bunch of ornaments. Here's the tree without all the ornaments.This is the first time I've had a tree in 3 years. It was so much fun decorating the tree with Richard. And the cats! They just love it. We don't have any presents under it, and the cats like to hang out under the tree. They are our little presents! It's so frickin cute. And they kinda play with the ornaments, which is also very very cute. I can has xmas?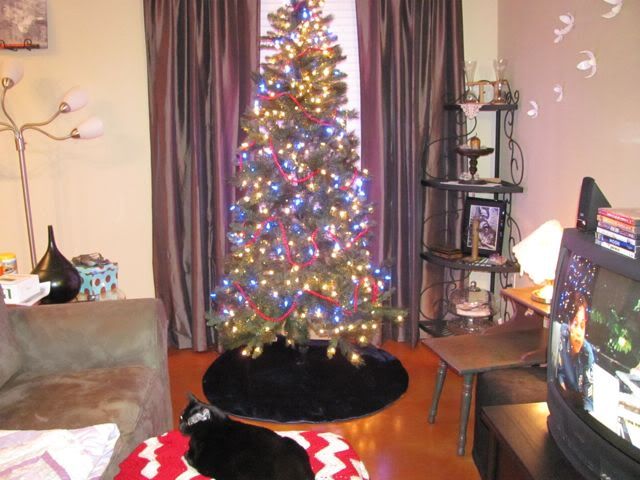 We went to see Nitzer Ebb a few weeks ago, and I took this with my iPhone in the dark. I love my phone! I still use my camera, though.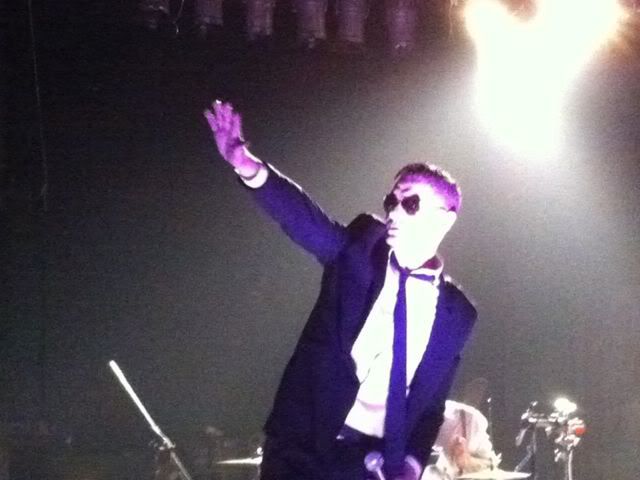 We had our department xmas party yesterday and I participated in a Secret Santa gift exchange. We make it easy on each other by writing 2 or 3 things down on the piece of paper with our names, you can't spend over $25, it's great. Here are my presents:
We tried to watch the eclipse last night, but there was cloud cover the whole time. I am so disappointed!
I'm back on trying to get Niko used to a leash. I took her out in the hallway last night and she wanted to come back in the whole time. She was pawing at the door and meowing loudly. So I tried it again tonight, and she did the same thing. I just sat down with her and hung out. It's going to take time.
My hair is growing out. I haven't gotten it cut since February. I still don't wash it. I don't know what to do. It looks great when I use a blow dryer with one of those round brushes. Then I use a ton of hair spray. I should clarify what I mean by "don't wash". I get it wet in the shower and massage the warm water into my scalp, which refreshes my hair. How long is it? Well, it's all different lengths because it's growing out from a boy cut type style. I don't have any split ends. I don't know where I'm going with this. It looks good in two little pig tails.
Yay vacation! 0 (comments turned off. leave me a note?)