2011-04-15 - Butterscotch oatmeal cookies and mint chip brownies - calorie free!


The big ride is tomorrow! Houston to Austin in 2 days. All I know is that I'm riding 75 miles tomorrow, to the half way point. I'm meeting my friend(s) from my team at 6:30 in the morning, gotdamn! I'm making us all chai tea. Yes, I'm sort-of back on the caffeine again, just during rides anyway. I think that's OK. I don't drink it during the week. And I don't drink coffee, just tea. It's AWESOME. Oh, and I take a 5 hour energy with me, and take half of it towards the beginning of the ride, and the other half towards the end of the ride. That is AWESOME as well.

I got this new twitter app called Tweetbot and you can create lists on there, but you have to hit the edit button, then the "+" plus sign. Really stupid, it took me forever to figure that out. Creating lists on twitter is cool, but right now I only have one. So I should really have said, "Creating a list on twitter is really cool."

Here's a picture of me and Lindz. (I'm on the right.) I'm standing on my tippy toes to make myself look taller, but you'd never know it if I hadn't just told you right now. I'm freakishly short. I'm 5 one and a half.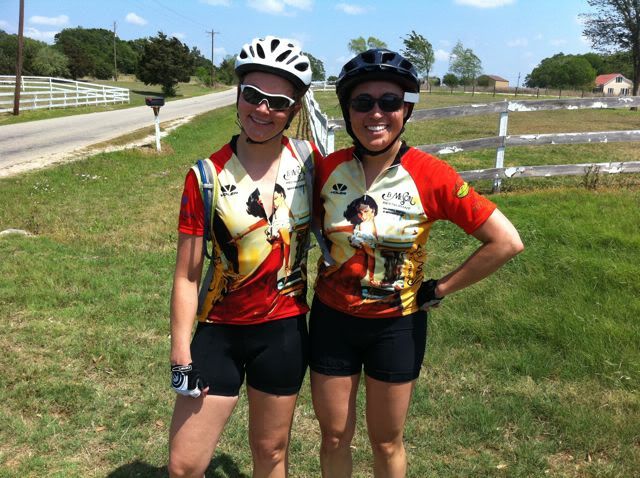 More kitty love!
I need to go to sleep now. I really want a good night's sleep before the ride.
I took the day off today from work and went to yoga at 8 in the morning, it was a great class!
Then I came home and baked cookies and mint chip brownies all day. The apartment smelled delicious. I bet my clothes smell like cookies tomorrow when I leave.
We have a huge party at the half way point, in a huge tent. The whole thing is so overwhelmingly huge, actually. There's over 13,000 riders, then you gotta count all the support crew. It's practically its own city. Just google MS150 Houston to Austin.
Good night! Wish me luck on my ride!