2012-01-07 - Resolutions, Words with Friends, and Hey Girl


Hello!
The Happy New Year's celebrations went great. We went to the bar (my favorite bar in all of Houston), arrived at 8:30, got a great spot at the end of the bar. We stayed there all night. It was really low key and boring and fantastic. We did the same thing last year, too. I forgot to kiss Richard at midnight, so we kissed at 12:10. That still counts as a midnight kiss.

Happy 2012!

I'm totally stoked for this year.

I made 3 resolutions for 2012.

1. Continue not smoking pot. I told you about that already.

2. Not eat fried food, mostly. I will allow myself falafel and a small amount of chips y salsa when we go eat Mexican.

3. Teach Niko to walk on a leash. Right now I'm getting her used to wearing the kitty holster thing. It's really fancy. I got it for $30 from www.kittyholster.com. She lets me put it on her no problem. I put a bell on it. She's the best kitty ever.

Here's a picture of my older sister's dog. He's a crazy wacked out trippy dog.
I've got a bunch more pictures for you. Here's one of me a week or so ago. We went to a party and this is me leaving, I was tired.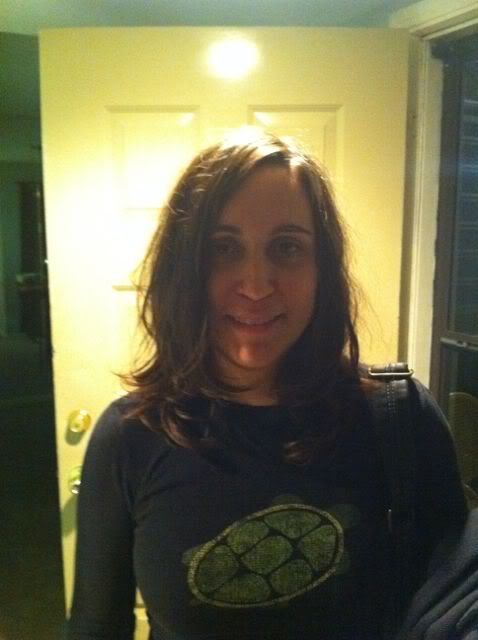 Here's pics from New Year's eve. This is my boxing instructor. We are simultaneously saying "Hey Girl!"
This is me and Richard and Richard's best friend.
3 guys in our group had bald/shaved heads.
Here's a better shot of my long flowing locks. Since I've been growing it out, it's really got a nice wave to it, and a tiny bit of body. This is news to me. When I had short hair, it was very straight. The wave didn't show up til it got longer.
Cute kitty.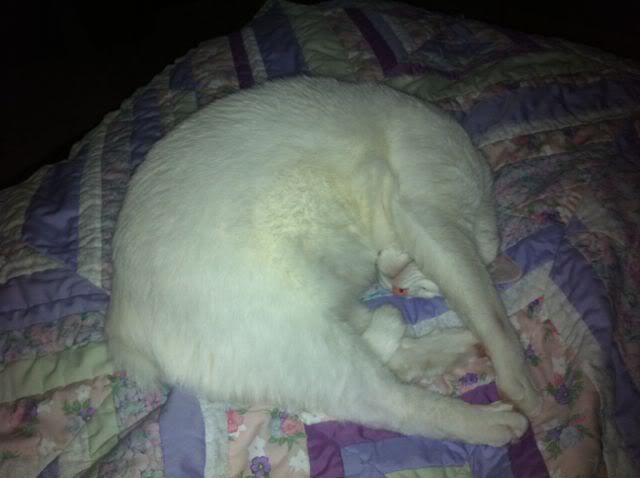 I'm currently a maniac on Words with Friends. Here's a 138 point word I did the other day. Whaaa?
I love this picture! The kitties are so incredibly cute here.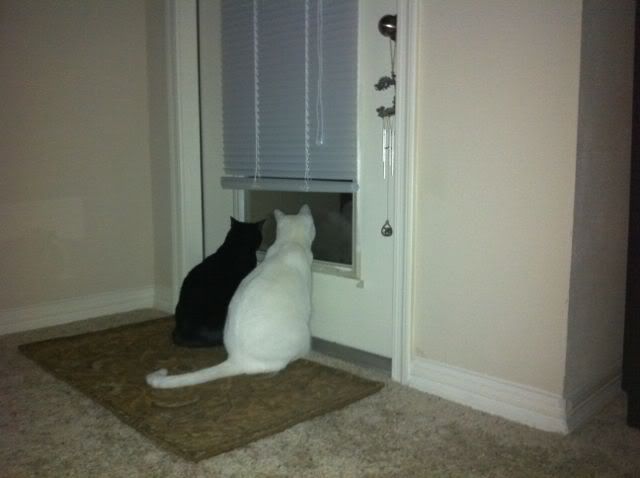 Finally rode my bike today. I hadn't ridden since that awful Bike Around the Bay ride in October. The ride today was fucking fantastic. The weather was perfect. Too bad the people I was riding with were SLOW. God, it was maddening at times. I cut out early and rode home by myself. I only said "bye" to one person. We had been riding since 9:30, and it was almost noon. So, I think we're all good. I doubt anyone really cared I left early. Anyway, here's 1 pic from the ride. I love this sculpture by Adickes. He's a local artist. It's downtown Houston.
Portlandia. I must talk about Portlandia. And Fred Armisen! I'm so in love with him. He is great on SNL. He's great on Portlandia. And I'm in love with Carrie Brownstein. She's fucking fantastic. The first episode of season 2 was last night, it was great.
That is all.
Oh wait I lied.
I have to tell you that I don't think I'm going back to boxing. I think Friday was my last day. Or maybe this coming Monday, I haven't decided. I've paid thru Jan 11th, so I could go Monday. I'll tell you, the work out is really hard on my old body. My right hip has been screaming at me for 2 whole months now, every single day. Sometimes the whole thing goes numb, from my hip to my knee, for hours. It really blows. As you recall, this is the hip I fell on when I tumbled from my bike over a year ago and had to go to the ER. Jesus Christ. So, yeah, I'm done with boxing. Maybe I'll go back, but now now.
OH! And Richard's New Year's Resolutions are to drink more water and get in shape. WOW! You can't even imagine how fucking thrilling this is to me! I've already purchased a 10 pound work-out ball for us to do ab work with. And we went "jogging" 2 nights ago after work, it was great! He's really pumped. I'M really pumped. I've always wanted a boyfriend I can work out with, it's exhilarating, VERY exciting. Wow. I like how this year is going so far.
Yay 2012!!