2010-11-14 - CrimeFighter!!!!!!


It's been 18 days since my last entry, so this one is long. Get comfortable.

The 155 mile bike ride was awesome. Who knew the Galveston Bay area was so beautiful and rich with history?

Here's me and my bike friends. Feel free to make fun of our dorky helmets. Safety first!
For Halloween, me and my girls (and Richard + another dude friend) went on an organized ride at 2 am! We dressed up. I was a devil. Here's our butts.
More Halloween. Check out my corset, yes, those are nipple zippers... and they are fully functional! I don't normally wear corsets, I have a friend who swears by them, she wears them all the time. Dude, I'm sold! They are the best fashion staple EVER. I want 10 of them. I think this look may just be my new uniform.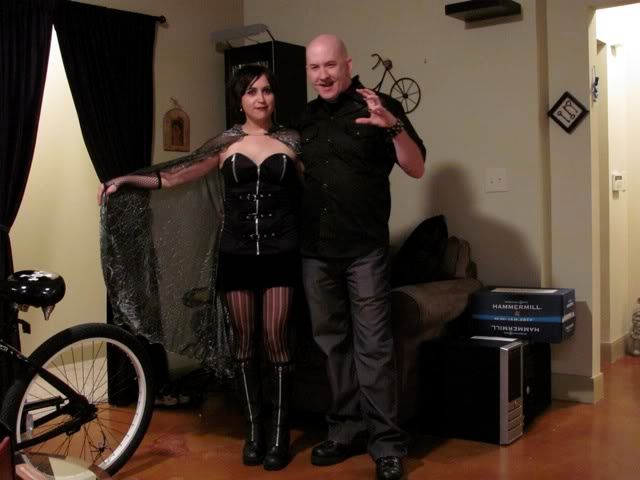 I did Richard's make-up with black liquid eyeliner.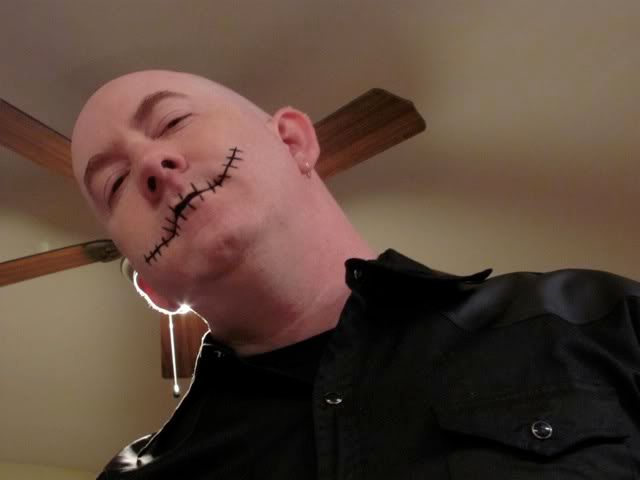 Halloween weekend, we went to a first-annual music festival. There weren't a lot of people there, but there was all this press. Me, Richard and a friend who came with us got interviewed. We were all like, "Where's Fischerspooner? Why did Fischerspooner get dropped from the list?!?" We did get to see Fat Tony, Richard played Donkey Kong Jr. Also saw Girl in a Coma (AWESOME!!!!!), Daniel Johnston (he was a little off that day, his meds must have been needing adjustment), some DJ with a laptop that Daniel Johnston drew on with a Sharpie, Macy Gray, and Bad Brains.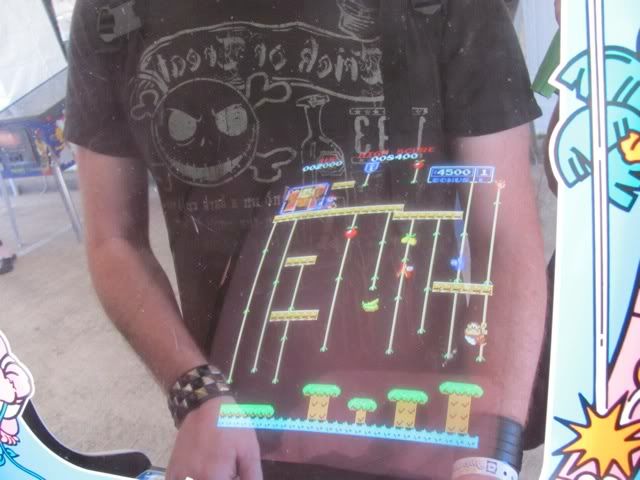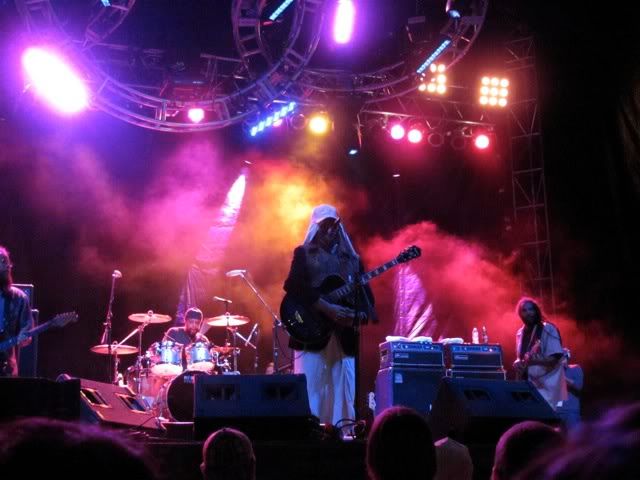 HR is weird!
***************************************
Last weekend I went to Boston for work, there was this huge dietitian conference that I attended and it was a bunch of bullshit and stuff, but we get continuing education credits (I have to get 75 hours of credit every 5 years) and this conference knocks out about 25 hours. Sweet, and my job pays for everything. My coworkers aren't all completely lame, so it wasn't that bad. Our hotel was linked up to the Downtown Boston YMCA, and I went about 3 times to work out, what a surreal experience! Going to any Y in the United States is always a little slice of life, I must say. It was right next to China Town, so there were old people doing Tai Chi in the mornings, and in the afternoon, they turned the gymnasium into a ping pong practice session, no shit! It was awesome.
So we got to eat out at fancy restaurants and stuff. I got this one dish: risotto with a fried egg on top, and shaved truffles. When you eat it, the waiter told me to mix the egg yolk into the risotto. It was super yummy.
Here's some pictures from Boston. It was cold and rainy the whole time we were there. I missed Houston and my boyfriend and my kitties!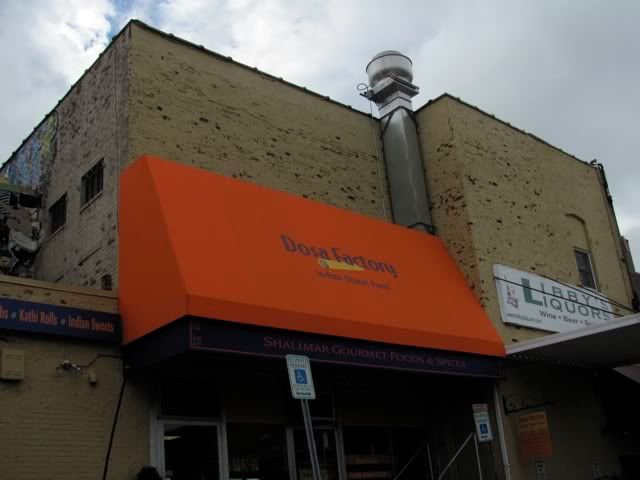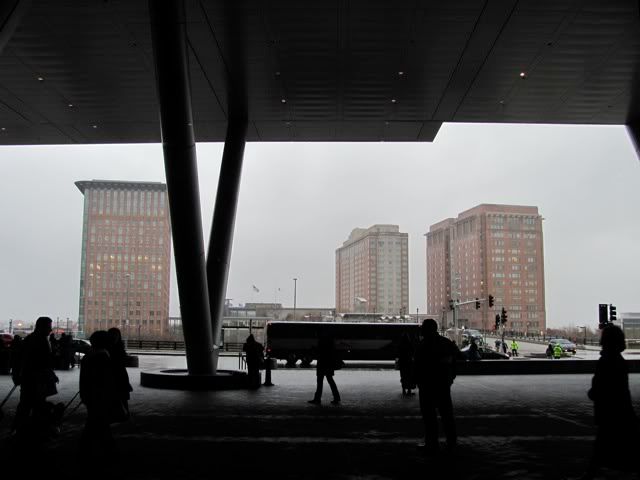 The closing speaker of the conference was Anthony Bordain! He got up there and was like, "I don't know WHY in the hell you guys would think I would be a good speaker for a bunch of dietitians, but here goes. They told me not to use profanity as much as I usually do, but that's not gonna fucking happen!" His topics were all over the place. He said he gets asked all the time, "What is American cuisine?" and his answer is, "American cuisine is what any chef in America is cooking right now." He also mentioned the phenomenon of how we like sushi, how just all of a sudden a few years ago, the whole country decided it was OK to eat raw fish. A collective decision, so to speak. Sushi is everywhere, you can even find it at Kroger, or whatever your local grocery store is. There are so many sushi restaurants here in Houston. Very interesting point, Anthony.
I got back to Houston Tuesday night. I was all bummed before the plane ride because I wasn't going to get back in time to watch the new episode of Star Gate Universe. But then on the plane (for $6) you could purchase the whole TV package, and watch TV from your seat, anything on TV! So I paid the ridiculous fee (I justified the cost by imagining I was purchasing a movie ticket) and watched SGU from the plane. And it was an AWESOME episode, too. The whole crew finds out what Rush has been hiding this whole time... Finally the crew finds out! (I'm not going to tell you, in case you decide to start watching.)
My arm is doing good, I guess. I've been spitting stitches (that's where the stitches that were put in under the skin start to work their way out), so had to get that taken care of a week or 2 back. It's bumpy where the stitches are trying to work their way out. Nothing I can do about it. I'm keeping it ridiculously moisturized, and massaging the scar as best I can. It doesn't really hurt anymore, unless I poke it in certain places, and why would I do that?!?
My friends told me if I lick it, it'll get better faster, but I just can't reach my elbow.
**********************************
Wade wrote me an email last week that I really shouldn't be contacting him, and he doesn't know at all if we can ever be friends again. I've been texting him from time to time, sometimes an email, but I never get a response from him. I miss his friendship. I think it's his woman who can't handle him being friends with me, and I understand that. I've never drunk texted him, I've made that a real point NEVER to do that. It hurts, his words. I replied to him one final time telling him that I understood, and that one day if he ever decides to contact me, I'll be here. Because you never can tell where life will take you. It's just crazy that we were together for almost a decade (2 years of dating, 6 years of marriage), I've known him since I was 18 and I'm going to be 36 in a few weeks, it's just crazy that we can't even have a normal conversation anymore, we don't share anything anymore, I have no idea how his life is going, if he's happy with his job, if he finished grad school, how life is with kids, I would really like to know these things, know he's truly happy, what he's struggling with. He always struggled with goals, it killed me. Wade, if you're reading this, I hope we can connect again. You were such a big part of my life, and I miss that.
************************************************
You're not going to believe this. Last night, at the ATM we discovered the ATM we were using had one of those credit card scammers on it! Richard was trying to swipe his card, and it wouldn't read his card, and he tried 3 or 4 times. Then he sort-of pulled on the thing, and it started to come off! There were 3 different pieces that were glued onto the ATM, and he ripped them off. It was so crazy! So we drove to the police station and turned it in (they called it an Unclassified Forgery Device) and filed a police report. No shit! Always be careful at the ATM, y'all. If you pull on the swipe-y thing, and it doesn't feel secure, don't use the ATM. I've heard about these things, but never in a million years would I think I would come across one!