2011-12-27 - Pictures from September thru December


Well, that was just about the best xmas I've ever had. It did not involve family.

Richard and I slept in. Around 2 I started cooking dinner for us and got everything in the oven at the same time about 4:30 and we watched a movie while everything cooked: a/k/a Tommy Chong.

Here's what I made!

Green bean casserole: I made a sauce with roux, chicken stock, dried porcini mushroom powder (I ground in the spice grinder) and garlic powder. Mixed in some cherry tomatoes. No French fried onions.

Fresh baked whole wheat yeast bread. I don't even use a recipe. It turned out great.

Whipped sweet potato casserole with marshmallows on top, of course.

Ham: I got a free spiral baked ham for xmas from my company.

We ate it while we finished the movie.

Then we started watching Limitless. That's a good movie.

I made dessert, it's this recipe Richard and I invented at the grocery store. It's called "Pop Tart Delight". I cooked berries with some sugar and nutmeg. Fresh whipped cream on the top.
Then later we met all our friends at the bar. Merry Christmas, everyone.
It's been very nice not getting harassing calls from my dad. Very nice indeed. I feel guilty not taking calls from my mom. But I do write her snail mail letters 2 or 3 times a month, and I send pictures of myself and stuff I've been doing. So she gets to "see" me. I did talk to her on Thanksgiving thru my little sister, and she was like, "When are you going to give me your new phone number? There's something wrong with your phone when I call!" I just told her my phone was broken, and I was trying to get it fixed. I told her to just call me when she's with my little sister, whenever she can. That hasn't been often. Maybe once since then. My poor mom.
Went to boxing last night, and going again tonight. Man, my core is rockin. It's nice not to have back fat anymore. Pushups are the shit, I tell ya. And hitting things.
OK, so here are a ton of pictures for your viewing pleasure. Since this is my diary, I am including gratuitous shots of myself because I'm so hot. Yeah right.
Here's me in September on a BMX bike.
Cool house from a bike ride in September. We were in some small town in Texas, I don't remember the name. All the small towns look the same to me, but I liked this house:
My cute kitty:
Check out my long hair. In February it will have been 2 whole years since I've had scissors to my hair. I'm still not using shampoo, can't remember the last time I actually used shampoo.
***A lot of these pictures, if you're on Twitter, you may have already seen. ***
Here's a lamp I modified using old X-rays when I totaled my car a couple of years ago: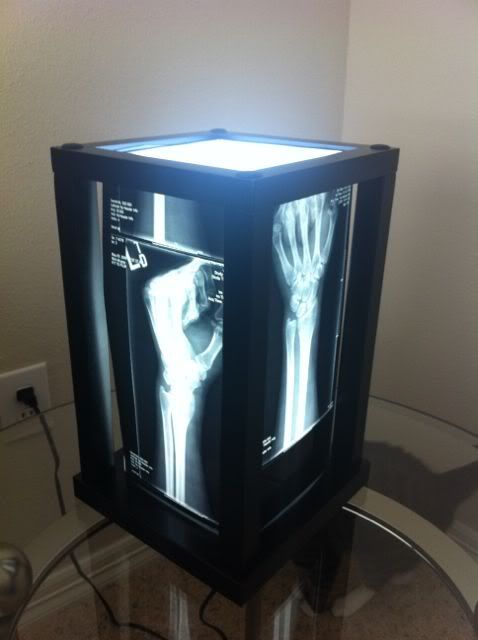 In decorating the apartment, this is that frame from Ikea I was telling you about with the cool lighting. I figured out how to put the dang thing together, and it looks badass.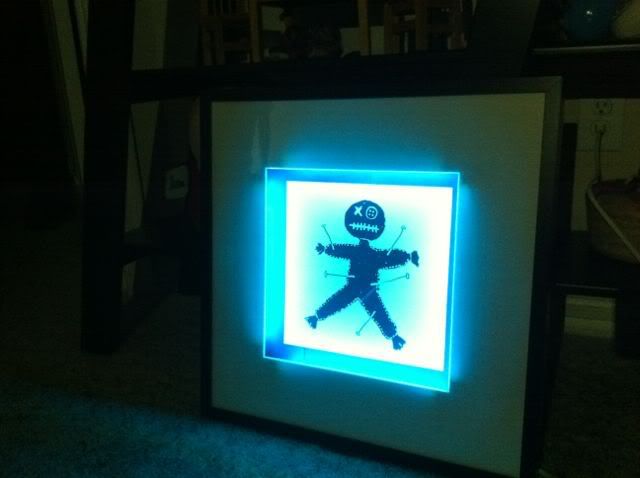 And the bling above the commode, here is that:
It's a wig: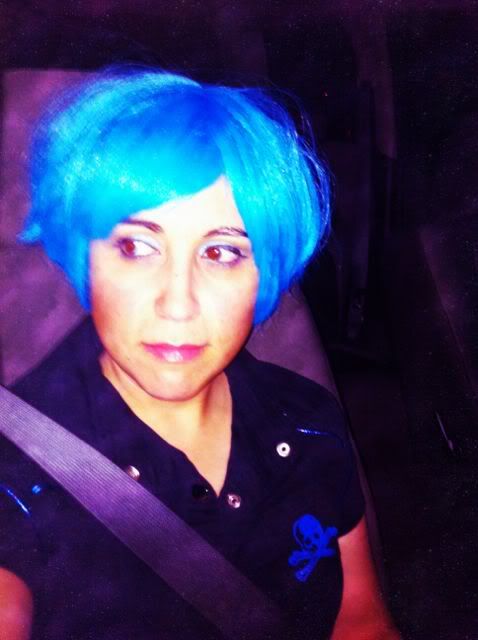 Here's the bread I made for Thanksgiving, half whole wheat, half white: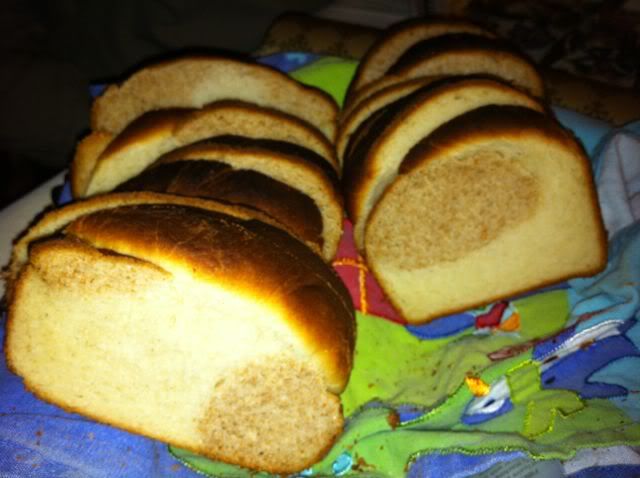 My cute boyfriend giving a demo on the iPhone to our hosts at Thanksgiving:
For my b'day last month, alls we did was go to the bar, no big deal:
Another pic of my hair. The back is longer than the front, you can't really see it: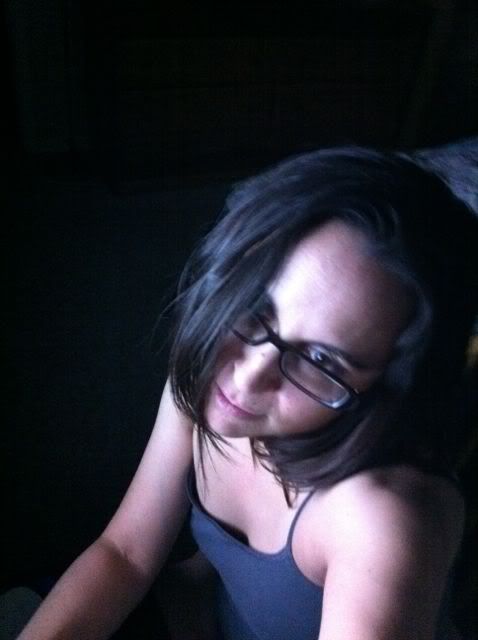 For Richard's b'day earlier this month, I made him a cheesecake. The recipe is from the Dessert Bible by Christopher Kimball.
Here's a picture of me from 5th grade. I had braces and an Ogilvie home perm:
I got this hat for myself for xmas. It's Jake the Dog from Adventure time and I LOVE it. People actually start laughing at me, out loud, when they see it. People I don't even know, it's great.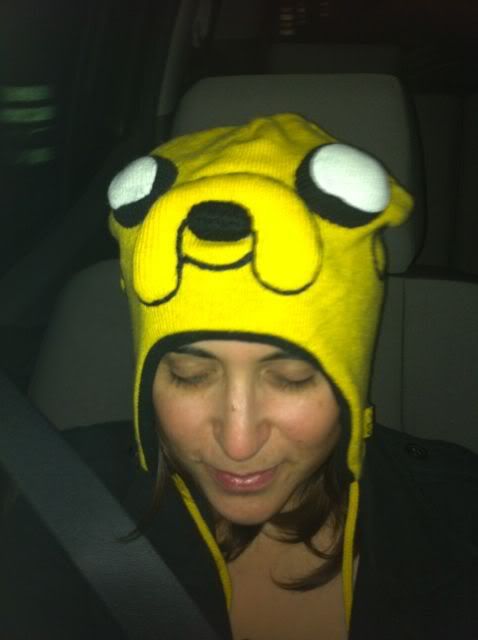 Here's the xmas tree we almost didn't put up:
Love love love this pic of me and Richard in a true embrace: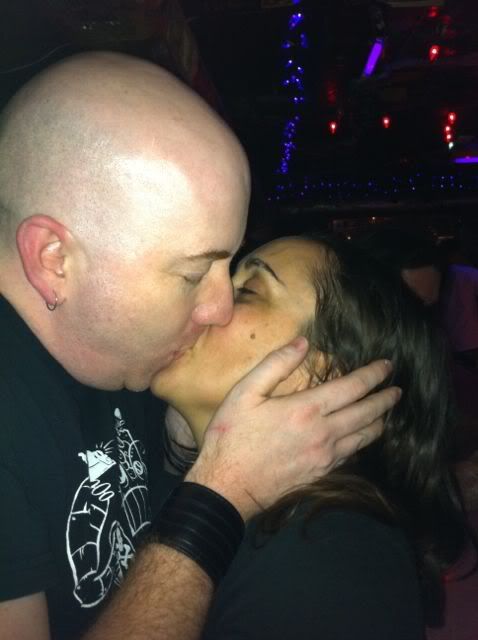 *****************************
OK, so I know you are wondering one thing: have I held true to my New Year's Resolution? (not doing pot for 2011) And the answer is YES. I have not done any reefer this year at all. In fact, it's been over a year because the last time was Christmas of 2010. And you know what? I've decided I'm never going to smoke it again. But! I will allow myself to ingest it by other means, if the opportunity arises. Such as: brownies, or other forms of food. I realize this opportunity probably will not manifest itself very often, and I don't intend to seek out other forms of it, so all in all I think this is a good decision.
I just think that smoking anything, in general, is really gross and disgusting.
I haven't decided on a New Year's resolution for 2012, yet.
Ok, I've got to go get ready for my boxing class, I have to leave in 45 minutes.